test-page-01
Treat it well and it can reward you, your crops, and the environment. But improving it is a big subject. Which is why we want to help. ProSoil is a new soil analysis service available via ProCam agronomists. It is designed to help you take the next step to improving soil health – whether physically (the soil's structure), chemically (its nutrient status) or biologically (the soil's 'life'). But it's also more than that. Read on…
WHY PROSOIL?
In developing ProSoil, we have taken our time to create a service that's professional and based on strong science, but also user-friendly andpractical. Samples of your soil are sent to a leading testing laboratory that we have specially selected, before the analysis results are carefully interpreted by a trained ProCam agronomist, and a plan of action for improving your soil is designed. Our personalised 'boots on the ground' service and the agronomy knowledge within ProCam means we can take the mystery out of soil improvement and interpret results in a way that makes sense for your farm.
EXPERT ANALYSIS
The results of your ProSoil soil analysis are presented in a format that's really easy to read and understand.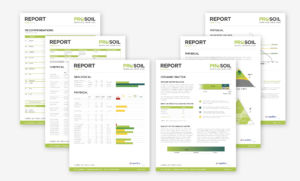 OUR 4 SOIL ANALYSIS OFFERS
With four core packages to choose from, three of which also have different options, there is bound to be a soil analysis that suits your needs.